The Humanist Hour #57: Jean Shepherd, In God We Trust (All Others Pay Cash)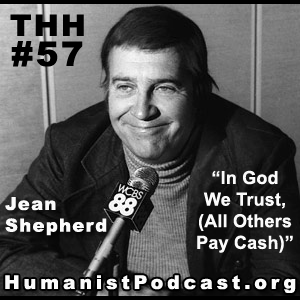 A new installment of the AHA's Audio Podcast is available for listening. Keep reading to find out about the guests on this month's show.
You can listen to the show using the podcast player in the player below, or download the show here.
For a complete list of The Humanist Hour Audio Podcast episode details, visit: AmericanHumanist.org/hnn/podcast.
In this month's audio podcast, listen to the magical monologist, Jean Shepherd, read an excerpt from his 1966 book, "In God We Trust (All Others Pay Cash)," which originally appeared in the December 1965 edition of Playboy.
About "In God We Trust (All Others Pay Cash)":
A beloved, bestselling classic of humorous and nostalgic Americana. Before Garrison Keillor and Spalding Gray there was Jean Shepherd: a master monologist and writer who spun the materials of his all-American childhood into immensely resonant–and utterly hilarious–works of comic art. In God We Trust: All Others Pay Cash represents one of the peaks of his achievement, a compound of irony, affection, and perfect detail that speaks across generations.
In God We Trust, Shepherd's wildly witty reunion with his Indiana hometown, disproves the adage "You can never go back." Bending the ear of Flick, his childhood-buddy-turned-bartender, Shepherd recalls passionately his genuine Red Ryder BB gun, confesses adolescent failure in the arms of Junie Jo Prewitt, and relives a story of man against fish that not even Hemingway could rival. From pop art to the World's Fair, Shepherd's subjects speak with a universal irony and are deeply and unabashedly grounded in American Midwestern life, together rendering a wonderfully nostalgic impression of a more innocent era when life was good, fun was clean, and station wagons roamed the earth.
A comic genius who bridged the gap between James Thurber and David Sedaris, Shepherd may have accomplished for Holden, Indiana, what Mark Twain did for Hannibal, Missouri.
+ Share