Friendly Atheist: Catholic School Suspends Students for Being Pro-Choice
Some students at publicly-funded-despite-being-Catholic St. Patrick High School in Ontario, Canada recently participated in the Pro-Life Day of Silent Solidarity. They wore red tape with the word "LIFE" written on it and "didn't talk for the day to display their belief in the injustice of abortion."
It's a student-run event, similar in nature to the Day of Silence for allies of the GLBT community. Completely legal.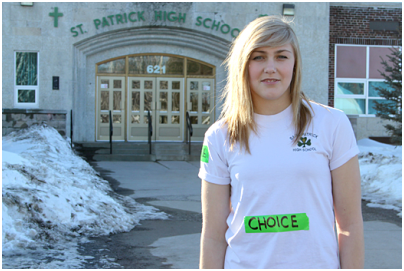 Sophomore Alexandria Szeglet wasn't a fan of that message, though, so she decided to do something about it.
She got some green tape and wrote the word "CHOICE" on it.
And then she passed along the green tape to several other students so they could join her in silent protest. (How awesome is that?) But it quickly came to an end…
"I respect the Catholic beliefs and I respect everything the school is going for," said the 15-year-old Alexandria. "I wanted to show my opinion whether it was a Catholic belief or not."

After handing out at least 25 pieces of the green tape to fellow students, Alexandria was told to take off the tape or speak to someone in the school's office.
Because the idea of giving women that much decision-making power over her own body is anathema to the Church.
But Alexandria stood her ground.
"… I had to take [the tape] off or go home and then I went home," she said. "I did it because it was what I thought was right.

"I think everyone should have a right to show their opinion and do what they need and what they want instead of being told that no you have to keep the baby instead of doing what you feel is right for yourself."
It gets better. Other students followed in her footsteps and took the hit:
Phone calls into the newsroom claimed that as many as 35 students were issued two-day suspensions, while another 100 were sent home for the day for wearing the green "choice" tape on their uniforms.

John de Faveri, Thunder Bay Catholic District School Board director of education, disputes those numbers. He said about 12 to 15 students were sent home from the school for the day while another two or three were issued two-day suspensions.
Even if the numbers are slightly exaggerated, the point is that she wasn't alone. Students were willing to get suspended because they believed this issue was worth fighting for.
This was a respectful way to show dissent and the school put a stop to it because they didn't ask for permission beforehand. What exactly are they teaching the kids? To keep quiet when they have a differing opinion?
Alexandria wasn't displaying any sort of hatred against the pro-life students. She wasn't bullying them. She wasn't saying they were evil or sinners or wicked. She wasn't putting others down (unlike the Day of Silence opponents whose shirts say "Be Happy, Not Gay").
She deserves to be commended. She's the type of student any other school would be lucky to have.…
Hemant Mehta is the blogger for FriendlyAtheist.com. He is the author of I Sold My Soul on eBay.
+ Share